FIRST Robotics Team #11- 2004
The team is comprised of students and faculty from Mt. Olive High School, County College of Morris along with parents, volunteers and important support from local companies and organizations.
We had a GREAT year! Here are our results for 2004:
2004 Semi Finalist New Jersey Regional (Trenton)
2004 Semi Finalist Chesapeake Regional (Virginia)
2004 *WINNER* Palmetto Regional (Columbia, SC)
2004 DaimlerChrysler Team Spirit Award Winner Palmetto Regional (Columbia, SC)
2004 National Championship Participant (Atlanta, GA)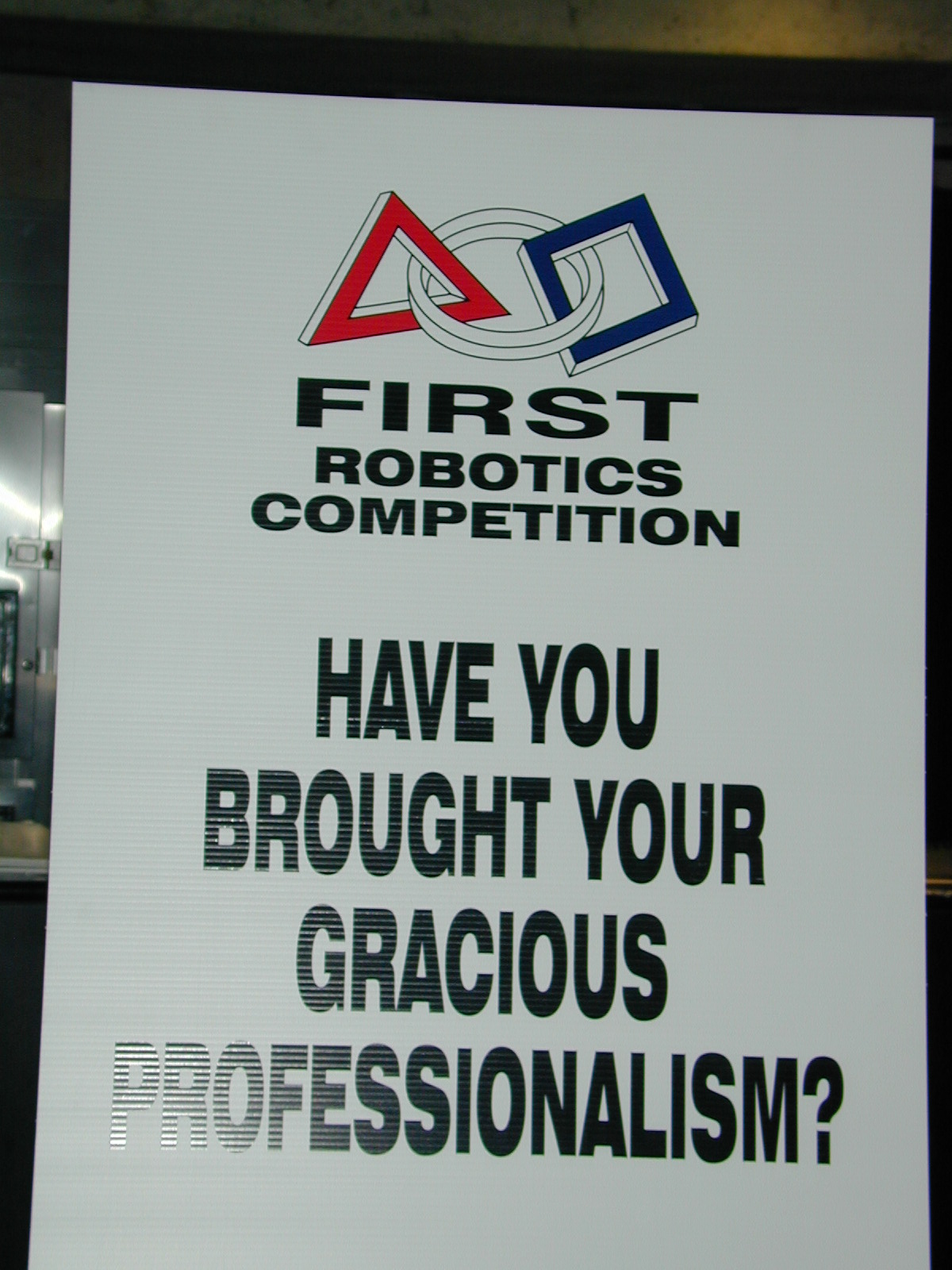 A "key" to FIRST Robotics is "Gracious Professionalism". FIRST encourages everyone to have a good time and support ALL teams. In a sense, it's an unusual competition since winning and losing is intentionally down-played.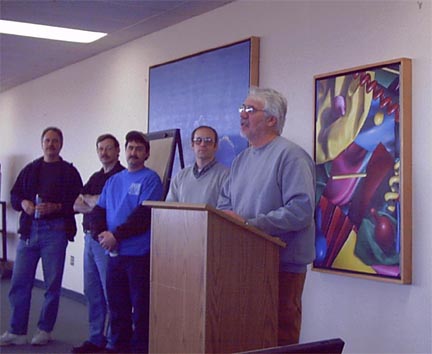 The event starts with a Kick-Off event at CCM. The teams gathers to strategize as the contest is "revealed" on the NASA cable TV channel. The contest is different every year and is always revealed in early January. The teams have just six weeks to build a winning robot (at which point it must be shipped to FIRST for a mandatory safety inspection).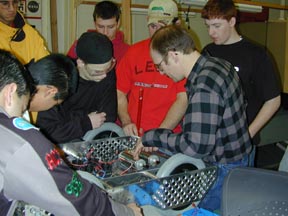 The team works in sub-groups building various mechanical and electronic components. Parent volunteers (as seen here) are often a critical part of each sub-team.
All of these "exotic" components are made in the CCM Engineering Lab.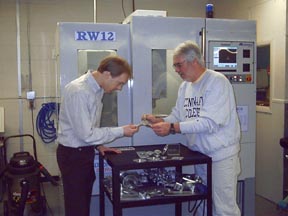 Faculty and student examining exotic mechanical components just created on a state-of-the-art CNC machine in the CCM Engineering lab.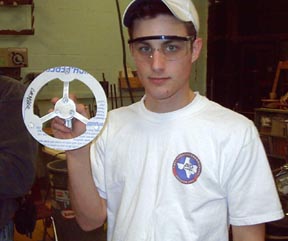 Students assemble the various custom designed components at the high school technology/robotics lab. Many of the components were drawn and designed using AutoCAD The electronic drawing files were generally e-mailed from the high school to CCM, where the actual parts were created. Just as in the real world, much of the design work was paperless and "just-in-time".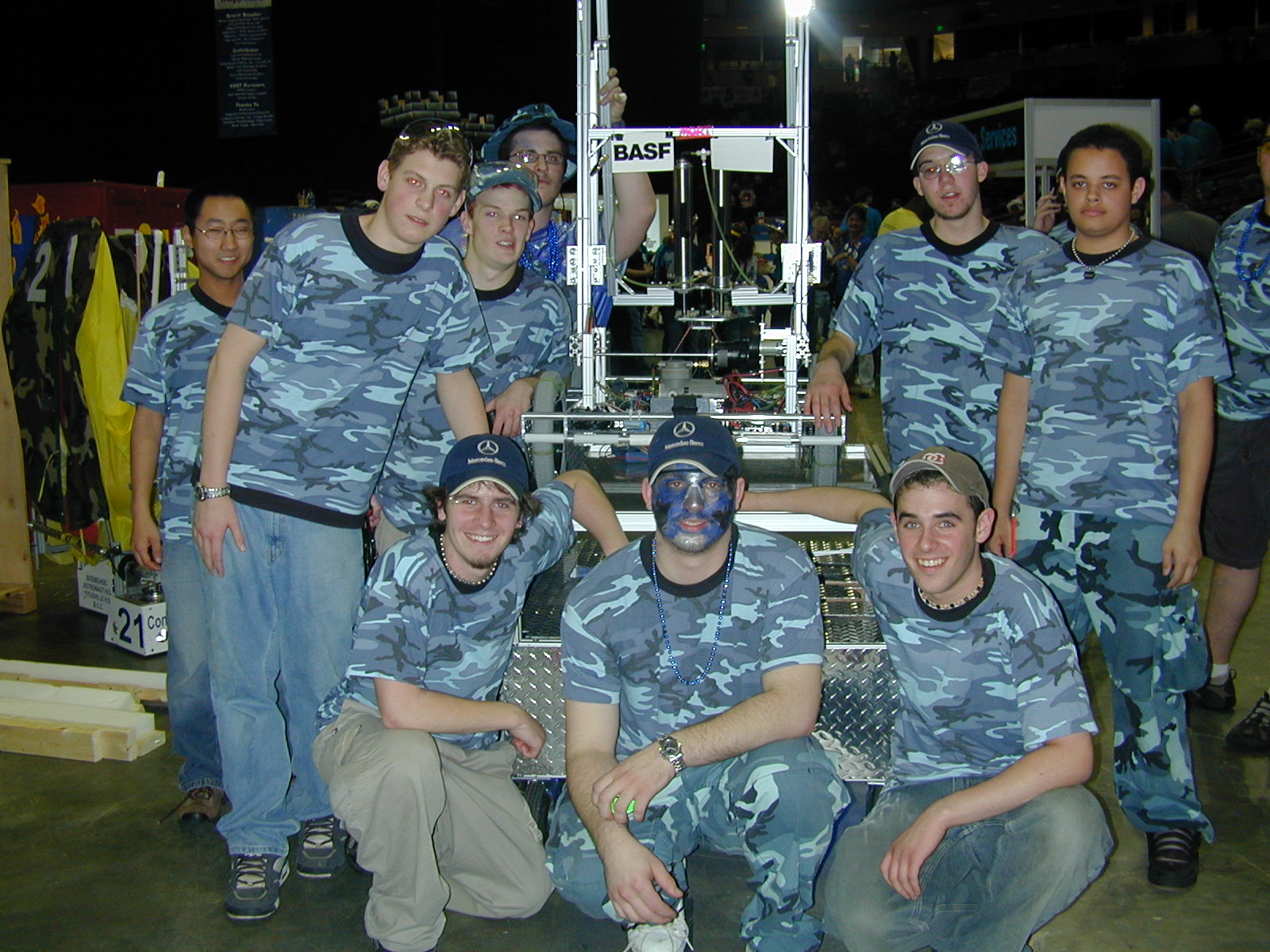 The team gets "psyched-up" with war-paint and camo-shirts.
Another team photo with a corporate representative in Trenton.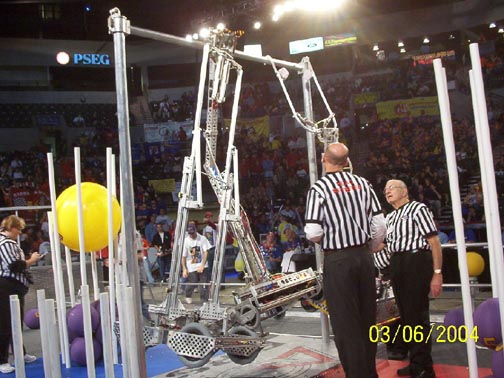 Here our robot has "hooked" the scoring bar, gaining valuable points in a match.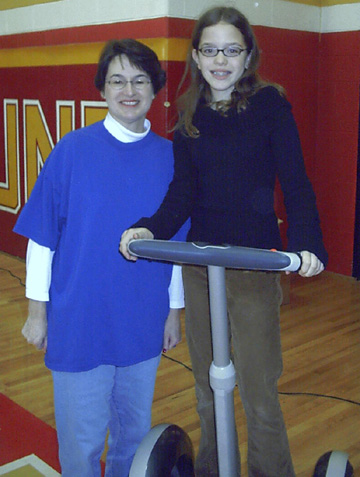 CCM staffer Linda Lower and Deam Kamen's niece (on a Segway Scooter). Mr. Kamen is the creator of the FIRST Robotics Competition. Among many other things, he is the inventor of the Segway Scooter.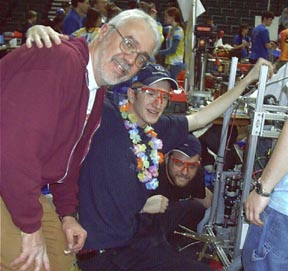 This was a real treat for the team. When we were in Trenton, we met up with two of our former student team-members that have gone on to become students at NJIT. They now manage their own FIRST Robotics Team (made up of students and staff from a Newark high school).