CCM/MOHS FIRST Robotics Team-2003

Our Morris-area team of students and staff from CCM and Mt. Olive High (along with parents and local volunteers) have completed the construction of our 2003 robot. At this writing the robot has been shipped to Rutgers for a safety inspection prior to the competition.
The North East FIRST Robotics Competition will take place on at the Rutgers Athletic Center (the "RAC") on April 3, 4 and 5 (Thursday, Friday, and Saturday). Each day will start around 10 AM and run until around 4 PM.
The event is FREE and all are welcome. The "RAC" is off of River Road in New Brunswick and is close to the Rutgers Stadium (follow blue signs to the RAC).
Even if you are not particularly interested in robots or technology, we would recommend that you attend this event. The creative, hard-working spirit of the young people involved in this event is truly inspiring. Folks who complain about "kids today" have never been to a FIRST competition!
Although the FIRST Robotics Competition looks like a "tech-type" event, it is really much more than a group of "techno-geeks (OK, we do have a few!). Our team could not survive without a large cadre of "non-tech" volunteers that organize meetings, schedule our diverse sub-teams, supervise funding, organize transportation, provide video graphic and web page documentation, arrange marketing and media exposure and comply with the endless paperwork required by FIRST. The robot is simply a focal point for this diverse group to come together.
The "competition" is also non-conventional. The true emphasis is on "participation" and not "winning". The FIRST organization is careful to provide awards for "Most Creative", "Best Team Spirit", "Most Improved" and so forth.
We have included some pre-event pictures below; we'll add more pictures after the Rutgers event (and then more when we return from the FIRST National Competition in Houston, TX).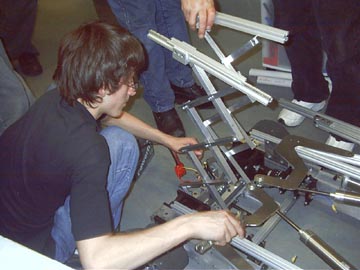 Testing the expanding "scissors-arm". The project required much "R & D" before we were finally satisfied. This was designed by the "end-effecter" team lead by adult mentor Ken Weiland, who is a professional toy designer!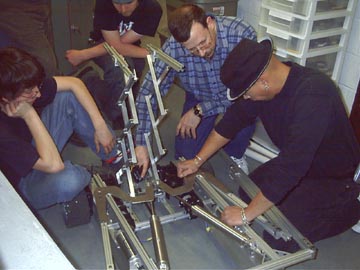 "Brainstorming" a mechanical scissors problem. What goes up doesn't always come down (at least not smoothly).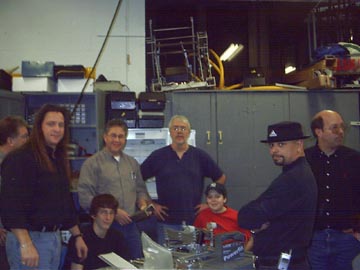 Members of the "drivetrain" sub-team in the Mt. Olive tech-lab.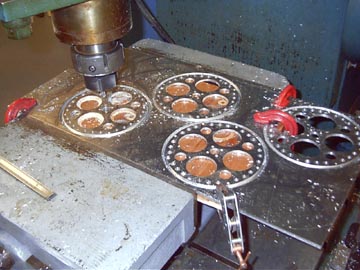 Fabricating the drive wheels on a computerized manufacturing machine in the CCM engineering lab. Students and adult mentors designed the geometry of these wheels using computer-aided drafting (CAD). The CAD files were read directly into the manufacturing machine to generate these parts.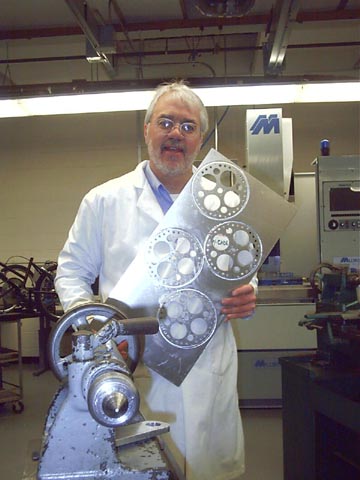 The partly-completed drivetrain wheels carved in a piece of aircraft-quality aluminium.
Students editing a computer program on a "CNC" machine in the CCM engineering lab. The young man at the keyboard is Andy Klages, son of CCM Prof. John Klages.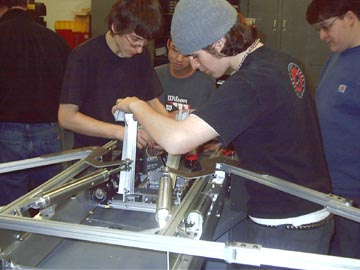 Assembling the pneumatic cylinders and fold-out "wings" we designed for the competition. This involved a lot of "trail and error". Sometimes, if we got overwhelmed with endless "errors", we stepped back and took a "doughnut break".....we ate a LOT of doughnuts!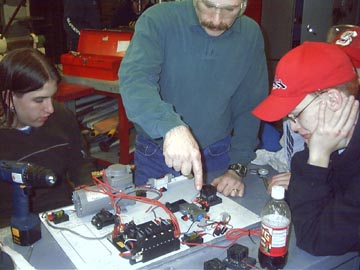 Working on the "brain" of the robot. Our "electronics" team was lead by adult mentor Mike Marvin, who works in the field of sound/audio engineering.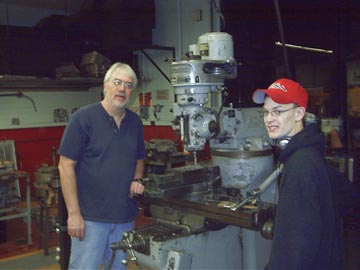 In the high school tech-lab. We actually fabricated parts in four different places....amazingly, they all fit together!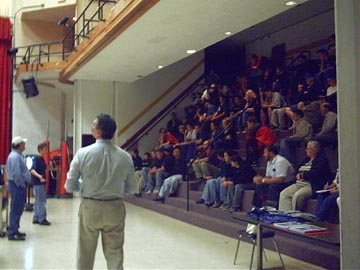 A meeting of the entire team (about 100 people).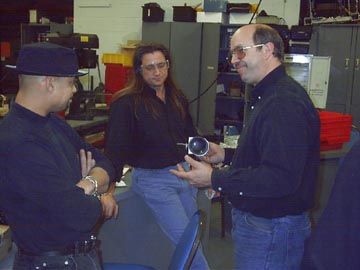 Adult team mentors discuss a proposed "suction-cup" device. Our adult mentors brought a wealth of enthusiasm and knowledge to the team. Mr. Nickens (L) fabricates and develops custom joint/bone implants for the medical industry. Mr. Holley (C) is involved in aerospace design. Mr. Tanzola (R) started a company that does the primary research and development in fuel cell technology for General Motors. He is a former CCM student.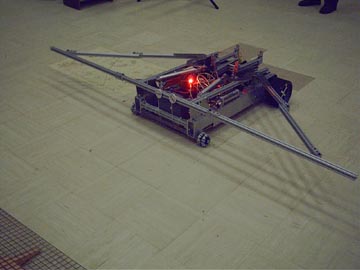 A preliminary test of the robot with "wings" extended. These parts must be light AND strong (two requirements that are in conflict).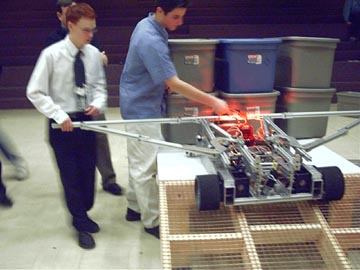 Climbing our "test ramp" for drivetrain testing. This revealed a motor temperature problem that we are still working on.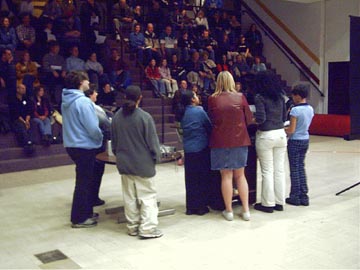 The videographic sub-team, lead by adult mentor Marie Clark, presents their documentation proposal the the entire team. All the sub-teams had to make a presentation to the team.
Click here to return to Nial McCabe's home page