About My MG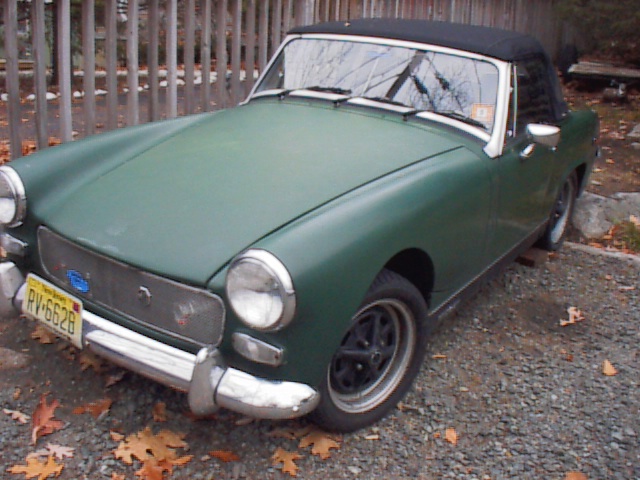 For a page explaining the process of converting this "Rubber Bumper" car to chrome bumpers-Click Here
For a page explaining the process of converting this car to tube shocks-Click Here
The car is actually a '78 "Rubber Bumper " Midget 1500. Various changes have given it a decidedly "older car" appearance (the three wipers sort of give it away though).
History
I purchased this car through Caller I.D. Doesn't make sense? An explanation......six years ago I called about a Saab for sale in East Orange. The woman who answered said that her husband had sold it. End of conversation....I hung up. Two hours later, I get a call. It's the Saab seller. He wants to know if I'm interested in his "other" car. How did he get my number? Caller I.D.! What was the car? This Midget. He was moving the next day was willing to give it to me (I felt bad and gave him $200). In 1968, I bought a BRG 1967 Sprite. After about ten years of street/race use I dismantled it and stored it in my basement. I bought this Midget as a "parts car". I still have the Sprite. I'm going to finish "next year" (been saying that for twenty years).
What it looked like in 1996
The car had been in a garage, unmoved for almost fourteen years. Umpteen generations of mice had raised their families in it. The tires weren't just flat.....they were stuck to the concrete floor. We had to use an eight foot 2 X 4 to pry it free. All brakes were rusted solid.....no wheels could turn. We had to winch it onto our racecar trailer. A rod was sticking through the side of the block. The right front fender was destroyed from a long ago accident. The right front suspension was kinked from hopping a curb. The top had been slashed by someone desperate for a British AM car radio. They apparently used a chain saw to remove it. The former owner had lost the ignition key. He "modified" the key switch with a hacksaw.
But.............no rust........ A solid (cheap) car with lots of "potential".
What I've done.....Basics
Clean, clean, clean......wire brush, wire brush, wire brush........wash, wash, wash.....vacuum, vacuum, vacuum. Power washed the whole car. Then I could start......I picked up a disassembled 1500 Spitfire engine with a -.020 crank. Took the best from both engines (two of the pistons are stamped "#4") and using new bearing, rings, gaskets, etc. built one good standard engine. New wheel cylinders, linings, pads, brake lines. A mail order (canvas!) top for $190. Flush trans (all syncro!) and rear...new gear oil. Replace all rubber parts in suspension. Installed a spare set of ('67!) front shocks plus a spare Sprite A-frame and king-pin. New oil in rear shocks worked wonders. Threw away all the carpets (Home Depot carpets for now). The seats still look kind of beat-up......I'm working on a set of "low backs". A friend gave me two matching '65 fenders (painted yellow but with the cooler small clear parking lights). I bought the old style bumpers at a Moss flea market a few years ago (I built custom brackets). Painted the nose with dark green Rustoleum (with a little black mixed in) using a $25 spray gun.
Mods
Got rid of those awful rubber battering rams and installed nice old chrome bumpers. Ditched the radio console. Initially, I installed a semi-decrepit '67 Sprite grill (didn't quite sit in right due to bumper reinforcements), but later I built a wire mesh grill using the Sprite outer frame. The clear front parking lights mentioned previously. Lowered the car one inch front and rear, plus another inch due to the 175/50 Sumitomo tires. A single manual choke HS-4 SU carb (from a '66 Volvo) replaced the truly dreadful Zenith. Cut the steering column three inches, eliminating the steering lock.....the key is now in the dash. Installed a Mitsubishi alternator with a modified large diameter slow-turn pulley (taken from the seized emissions air pump that I discarded). A large diameter exhaust (using a $16 Chevy truck muffler). Mechanical points ignition (centrif. advance only). Battery mounted in the trunk. Roll bar.
What It's like
Slow, truthfully......there's no real "speed mods". The 1500 Triumph (even with the full syncro Marina/TR-7 trans) is still slower than my old 1275. Handling is great on smooth roads. I'd like to convert to tube shocks, front and rear. Fairly reliable with the usual leaks and bumps. I drive it year round.......drove it to Ocean City, Maryland a few years ago with no problems (other than a sore backside)......not a "garage queen", it lives outside.
Other Toys
'41 Aeronca L-3 airplane, Honda Ascot 500 MC, Dodge Colt ITC racer (for sale), lightly modified Celica, two new Mazdas (Miata and Protege), various machine tools, model steam engines....